How to Buy a Bobblehead? Step-by-Step Guide 2020
Dear Customers:

Welcome to cheapbobbleheads.com
Do you know any bobblehead fanatics?
Bobbleheads are a very popular collector's item. To tell you more about it (if you're entirely unfamiliar), these are figurine-like little statues whose head is bigger than the body, usually with a spring to make their heads move. That's why they're called bobbleheads in the first place.
That's cute, don't you think so?
In the past, bobbleheads were offered as a single item whose looks were based on a previous sports player, a celebrity, a superhero, or even a movie star. But along the way, it became more customizable to make it more appealing to customers.
Imagine having your version of a bobblehead! Do you know how to order a bobblehead? Where can I get my bobblehead custom-made?
Most of the time, these collectors' items serve as memorabilia that can resemble a moment or even bring you closer to your favorite movie icons, or even celebrity idols.
Here at cheapbobbleheads.com, we offer you the best bobblehead choices you could think of perfect for you and your loved ones!
Choose your category type.
Before starting with the buying process, make sure you know which kind of bobblehead you are looking for. 
Are you looking for a fully customized bobblehead? Or are you just looking for the standard customized bobblehead?
If you do not know the difference, then let me share it with you.
Fully customized bobbleheads are those whose changes have been revamped from head to toe. Imagine that you are working with a blank canvass where all the deciding factors are on you. This includes the body type, the base, and even the accessories, and also the specific appearance you want your bobblehead to have (grin, smile, frown, etc.)
Fully customized bobbleheads include the following choices as your blank canvass:
On the other hand, standard body bobbleheads will only make you decide which body you want your bobbleheads to have. This will sort of become the base reference of your bobblehead. 
It could be superman's body, it could be a doctor, a football player, or anything that you desire.
Take note that these bobbleheads are customized for you for any occasion! It could either be any celebration such as weddings, birthday celebrations, or any event. It could even be just a personalized gift you would want for yourself. 
To make it easier for you, you could check out the main menu we have located at the left most of the website once you've initially clicked your choice from our main menu (located at the top most part of the website.) Through this main menu, you can click between a fully customized bobblehead or a standard body bobblehead. Also, we help filter the bobbleheads by categories and events to make your buying process much more comfortable and efficient. 
Once you've chosen the specific category type that you like, you can finally proceed with the nitty-gritty details of your bobblehead.
This is the part where you can really maximize the customization of your very own bobblehead!
Once you click on the bobblehead of your choice, you will be led to another page where you can have a step-by-step opportunity for every category of your bobblehead. 
Choose the size of your bobblehead
We will start off with the size requirement. Make sure to choose between the following sizes you want your bobblehead to have:
6 inches (15.24 cm)
7 inches (17.78 cm)
8 inches (20.32 cm)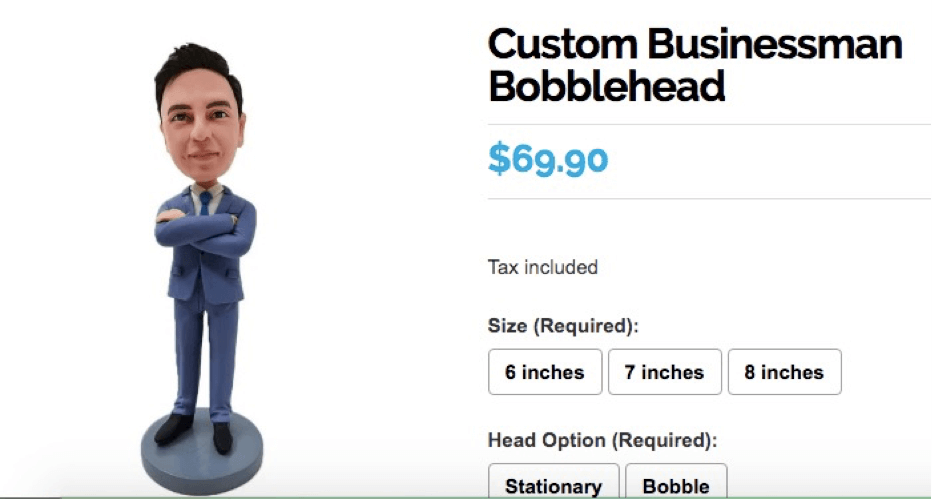 Choose your head option
After which, you will need to select your head option. Your bobblehead's head could be stationary, which means it's static and does not move. While for the bobble, this means that your bobblehead would have a spring, so it can wobble.
What a cute source of entertainment, don't you think so?
Upload your photo
Next, you would need to upload a photo.
In this part, take note that bobblehead artists make your items according to the photos you uploaded, so you need to make sure you only uploaded high-resolution images.
This is so our team can refer to a specific face feature that you want your bobblehead to look like. This is one of the best ways to customize your bobblehead and give it a personal touch to your item. After all, that is what our company is all about. You can upload up to 3 photos, if you want to submit more photos, please email at service@cheapbobbleheads.com.
Choose your eye color
Did you know that when you customize your own bobblehead, you can choose your own eye color too!
Now I bet you can't wait to get an eye-to-eye contact with your own bobblehead!
You can indicate if you want your eyes to have the same color as the picture you uploaded or select between the eye colors we presented for you.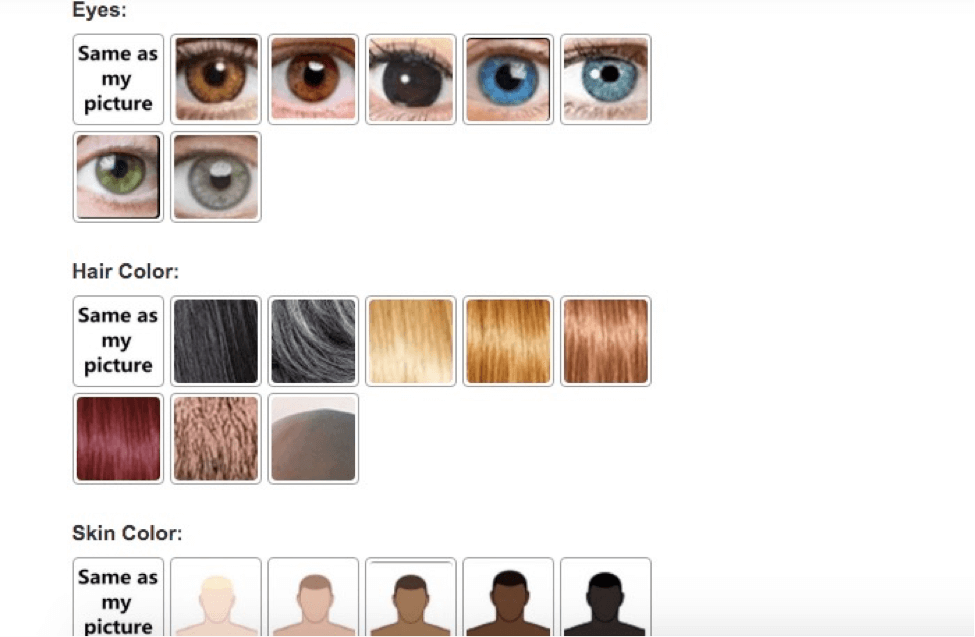 Choose your hair color
Just like the eyes, you can also personalize your hair color to make your bobblehead look closer to the original reference.
You can select the hair to be the same as the photo you uploaded, or select between the choices presented to you.
Select your skin tone.
Make your bobblehead really look like you want it to be and customize the skin tone! Just like the eyes and the hair, you could select if you want your bobblehead to have the same skin tone as the photo you uploaded, or you may also select the categories presented to you.
Indicate the words you want on the base
Are you familiar with what a base is?
A base is basically a platform-like object where your bobblehead stands. You can actually indicate specific words you want to be placed here.
It could be a simple name or even a quote according to your choice.
Leave your extra notes

After all the specific customizations you indicated for your order, it's time to leave extra notes.
In this part, you may indicate final instructions to how you want your bobblehead to look like. These could include accessories such as a hat, a bag, or even a tattoo on the skin of your bobblehead.
If you need to expedite orders, you must take note that it will take you 6 to 8 days.
But for standard orders, this will only take you 10 to 15 days.
In addition, you must also leave your contact details so that the team may contact you for further questions.
Isn't customizing bobblehead fun!
Add to Cart
Just click on the "add to cart" button after you've selected all required selections. You can continue shopping or proceed to check out. Please wait a few seconds after you clicked on "add to cart", because it takes some time to upload your images to our server. After that, please check your order information and proceed to check out. 
Check out and fulfill your contact information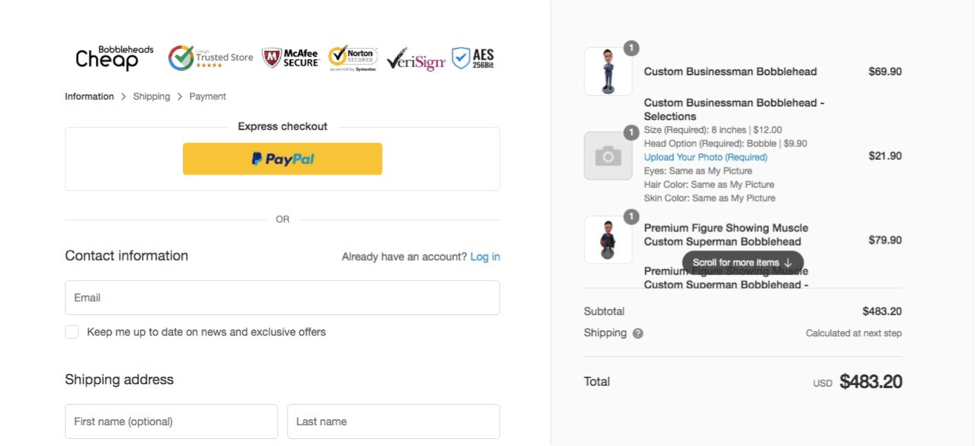 You can express checkout with PayPal or checkout with fulfilling your contact information. Please leave both your phone number and email address, so the Logistics company can contact you easily. After you make sure all the information is correct, click "continue to shipping".
Shipping
There will be 2 shipping methods: The standard shipping and DHL shipping. The standard shipping usually takes 7-15 days. The DHL shipping takes 5-7 days. We suggest you choose standard shipping because there will be some delay during the pandemic.
Payment
We accept PayPal payment and Stripe credit card payment. After payment, you will receive an email for confirming your order.
Cancel order
You can cancel your orders anytime and get full refund as long as the bobbleheads are not made or ship out. You will get unlimited proofing until you approved it. But we cannot refund or return once your order has been shipped.
Return and refund
You can get 100% refund if the bobbleheads are not made or ship out. We don't accept return once you've approved your bobbleheads, because the bobbleheads are custom-made, we're not able to resell them. To learn more, please check our refund and return policy.
Discounts for return customers and bulk orders
We will offer any return customers and bulk order 5% to 20% off. Please email us at service@cheapbobbleheads.com before you place an order. You can visit our policy for bulk orders too.
Final thoughts
Cheapbobbleheads.com values customer service the most, you will get quick response after you reached out. You will not have any trouble when placing an order here. Are you ready? Create your own bobbleheads now!