Top 10 Marvel Superhero Bobbleheads that Boys Will Love
Your toy collection does not have to be boring. Whether upgrading your collection or shopping for the first batch, gifting a friend, or making memories. It is worth getting value for your money. You can raise the worth when you put your money where your heart is by going for the product you love.
Bobbleheads are the new fun. For those asking, Bobbleheads are not entirely new inventions. They are advanced dolls renowned for wobbling heads just as the name suggests. Bobbleheads are commonly used for kids' play. Surprisingly, you can employ bobbleheads for a variety of other purposes which include gifts, souvenirs, artifacts, beautification among others.
How about you give a customized bobblehead to your boss on their birthday, or employ one for your business marketing strategy?
You can choose your perfect bobblehead from a variety of choices. For the Superhero Bobbleheads for the boys, consider including in your bucket list the bobbleheads below.
Captain America Bobblehead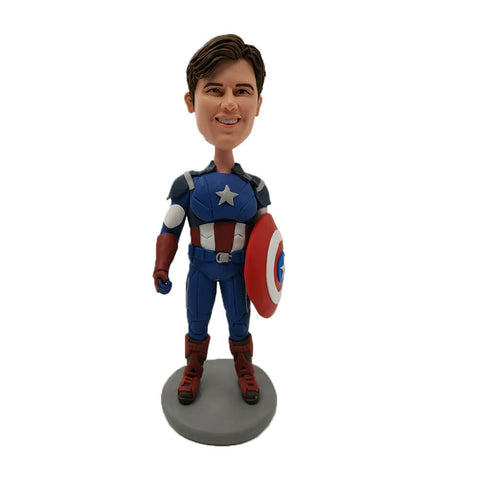 Captain America is everyone's favorite superhero. This character is originally from American comic books and was published by Marvel Comics. The Captain America character was created in the mid 19th century by partners Joe Simon and Jack Kirby. The popularity of this character has grown massively for the past decade thanks to back-to-back movie features.
In the movies Captain America: Winter Soldier, Avengers, and Civil war, he flaunts his shield to avenge Justice.
Captain America possesses alluring traits. He acts as fast as light to counter attacks. His Determination for vengeance is so evident in First avengers.
Captain portrays determination traits, a leader, an inspiration to emulate.
The Hulk customized Bobblehead
From the big boys to the little boys, who would hate a superhero that grabs a helicopter and smashes the enemy out of it. As astonishing as it may sound. The hulk is the real definition of the smashing champ.
The Hulk is a character based on the American Marvel comic books. He is popular for his raging monster trait. He is adored for his superpowers to transform into gigantic creatures. Hulk has a conspicuous green color that sets him aside from other superheroes.
From the movie The Incredible Hulk 2008, the character takes action to a whole other level, raising adrenaline for the action movie fanatics. In a scene, Hulk grabs cars, smashing them in an astonishing rage. His wild roar can be heard as its deafening implications are evident. With his pursuits on his neck, Hulk ejects a spartan kick, throwing his enemy to his disorientation.
His ability to grab bullets is another amazing superpower ability worth mentioning. The immortal Hulk comes out when his pursuits spray bullets on his body.
When deciding on a birthday gift for your son, a customized Hulk bobblehead is a good fit. The Hulk possesses good traits that kids can emulate. The passion for doing right and fighting for justice, unrelenting spirit, inspiration to fight on amid challenges, are just but a few traits for kids to emulate and build their personality.
Batman Bobblehead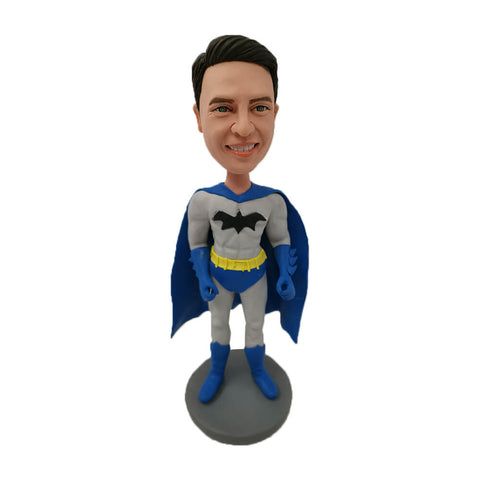 Is it a bat or a man? Nevertheless, we all adore him. Batman is the greatest-known detective in the world of superhero comics. He is based on American DC comic books. Witnessing the murder of his parents, Batman developed the urge to fight for justice. Batman endowed a bat-themed costume to apprehend criminals. Batman plays along with other DC characters such as Wonder Woman in executing his missions. He comes out as a superior intelligent who uses his intellectual skills for justice.
Batman has graced our screens for decades, with different persons adopting this character in films while doing their roles' justice. Bruce Wayne lingers in mind whenever Batman is mentioned. Bruce Wayne is the immediate alias to Batman. Other characters that we love include Jean-paul Valley and Dickson Grayson.
Batman brings another whole level of vibes. Serving us pleasantries, gimmicks, and awesome traits. Allow him to wobble his head on your son's little hands and ignite even more inspiration.
You can agree with me that Batman is a black idol. You can also flaunt a bat essence among your list for Christmas gifts with the Batman customized Bobblehead.
Superman Bobblehead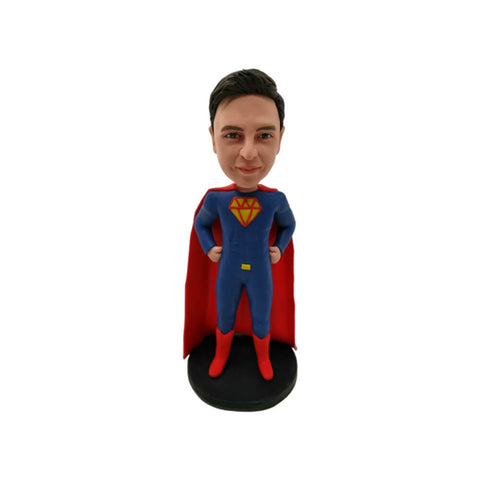 Superman is another charming character and fantastic bobblehead idea. Superman originates from the planet Krypton, as indicated in the Marvel comic story. Superman possesses inborn extra abilities. These extra-human abilities are common to all Kryptonian beings. His superhuman abilities are evident as Superman grows.
He possesses extraordinary abilities to track objects by sounds. He can locate a tragedy a mile before everybody does. When this happens, Superman jumps into action immediately and saves the day.
It is not easy to be superman. He has to live a double life, hiding his supernatural abilities from people and loved ones. Nevertheless, he plays his cards well.
What do we love more about Superman? A lot. His mastery of jumping on the roofs. His soaring on the air. His landing skills. Hanging on planes. All these skill sets are amazing to watch. Especially when you learn that he is doing it to save humanity.
Iron Man Bobblehead
As the name goes, Iron man is a man of metal. He is popular for his metal shield garments that he uses as protection against his assailants. Iron Man, alias Tony Stark, is a character from the American comic books story.
Tony Stark, plays his role as a playboy who lives in luxury in the film, The Avengers. He is well-known for his acts of heroism to save humanity from attacks around the world. Iron Man is an invention maniac. On one occasion, Iron Man employs the Iron Legion technology to shield people all over the world from attacks. The Legion shield would leave his legacy living on even when he is retired.
In summary, customized Bobbleheads are a great way to gift loved ones. For the boys, Superhero bobblehead is a good fit. You can consider other factors such as durability, cost, the material used to settle for the best choice.