Why Collect Bobbleheads? Bobblehead Collection Guide in 2023
When we visit a friend's house, who is a confessed geek of almost everything they see in the movies, comics, or on TV, you'll find some figurines of characters in their desks or shelves. After a few sips of coffee or tea, or most likely a weird character soda they bought from Japan, you'll almost spew what you just drank when you discovered the prices of his anime and comic souvenirs.
Are bobbleheads worth anything? Now that you've realized that they just don't get these figures as a freebie in a box of breakfast cereals, you come to wonder as to why someone would spend so much for these geek items. Naturally, you'd guess that it's only because of fanaticism. But actually, collectors think of something different while prospecting for things to add in their lineup.
One of the most popular collection items is the bobblehead. These are miniature figures of popular characters from TV, cartoons, movie series, and the comics. 
Compared to other statues, the bobblehead displays a head bigger than its body, and the earliest of these items have spring mechanism for necks, hence, the name. Later on, they went through many adjustments to please the market and make the figure look more realistic.
Why Are Bobbleheads So Popular?
One of the biggest reasons why bobbleheads are so popular is that they are foreign objects to collect. Bobblehead collectors enjoy a fun and healthy pastime and can even make a little money from when they decide to sell their collections. Whether it is for personal entertainment or a means for investment, the bobblehead business is booming due to this.
Sports bobbleheads are the most famous out there. Baseball, in particular, is known for game day bobblehead giveaways. Moreover, these sports teams let them find sponsors to pick up the tab in exchange for adding in the corporate sponsor's logo on the bobblehead. 
When you think about it, that logo on that treasured bobblehead on your shelf is much more useful than any promotional object that most people don't mind throwing away. Moreover, baseball fans are more likely to attend games during days with bobblehead giveaways. 
Brief History
If you are new to the bobblehead scene, here is a brief overview of bobblehead's rise to fame. 
These miniatures have gone by several names such as nodders or bobbles, but most people know them as bobbleheads. They have been around since the 1700s. This fact breaks the common notion that bobbleheads were meant for car dashboards since cars weren't even invented yet at that time. 
Bobbleheads made its first appearance in sports during the 1960s, thanks to Major League Baseball. The baseball teams would have designs based on some of their most popular players, and it's a tradition that continues today. It is one effective way for organizations to gain more fans.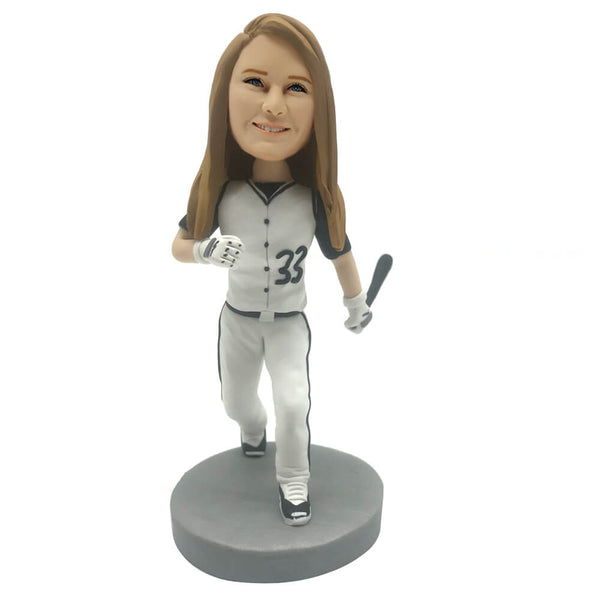 The industry has come a long way over the years. It is not uncommon to see bobblehead designs based on comic book superheroes, famous movie characters, personalities considered as legends, and even the actors themselves. Moreover, Bobbleheads became increasingly popular even outside the bobblehead collectors community due to makers offering personalized or customized bobblehead figures. 
Why People Collect Bobbleheads?
It is not unusual that some family members and friends impulsively collect bobbleheads. Of course, those who have money to burn would spend on things that make them happy. If the product means so much to a person, they sometimes save up or loan from a friend, so they can get the limited edition item before it gets sold out.
There are plenty of reasons why bobblehead figures appeal to many collectors. Perhaps one good reason is that anyone can start a collection even with a limited budget. And given the fact that the right bobbleheads gain value over time, many people feel confident to treat them as a way of investing their money. 
Similar to any form of memorabilia, bobbleheads bring fans closer to the sport, character, or celebrity they love. What makes game day bobblehead giveaways unique is that they resemble a moment or experience that happened during a game. This is especially true for commemorative bobbleheads. Kobe Bryant's set of three bobbleheads, for instance, commemorates the three memorable events in his NBA career. 
Celebrity bobbleheads, on the other hand, give fans a closer connection with their celebrity idols. It includes pop music artists, prominent politicians, Hollywood movie stars, or even the movie characters themselves. Some fans are willing to spend thousands of dollars for even the most trivial piece of memorabilia, and these miniature versions of their idols are not exempt. But, the truth is whether it costs a few dollars or up to thousands, a lot of people will go crazy over it depending on the depicted subject. 
Bobblehead figures provide a tangible memory or representation of outstanding people, amazing characters, and unforgettable events. This is why people collect, and for the same reason, this industry will never come to an end. 
Adults Collecting Bobbleheads
While a lot of people may look at it as a childish endeavor, collecting bobbleheads is an excellent hobby for adults as it takes them back to when they were younger. It has long been established that bobbleheads are not a doll but rather a collector's item. 
Collecting bobbleheads is comparable to other things that adults do as they fantasize about the lives of famous people. Fantasy is recognized in all kinds of adult behaviors like reading tabloid magazines, going to Vegas, or going on vacation, all of which is an escape from regular life. However, this does not mean they are unhappy. There aren't many ways to escape the stress and rigors of daily life, which is why even the smallest amount of joy you can get from your bobblehead collection is enough. 
Value Of Bobbleheads
When it comes to collecting anything, it is essential to understand what you are buying. The most valuable bobbleheads can push well into the four-figure range, and paying so much money for one can be a significant risk. It is required to do plenty of research on the bobbleheads in question to find out how many of these figures exist if they commemorate any special occasion and if they are in good condition. 
For newly released bobbleheads, values can spike, however, once the initial craze is over and assuming that the supply remains steady, it is very likely for the price to go down. While it can be risky for those who are new to bobblehead collecting, veteran collectors can quickly figure out which items will gain the most value. 
With bobbleheads, there are a few categories that tend to have the highest values. It is not surprising that vintage baseball is on top of the list, considering that it is the Major League Baseball that started the craze. Rare pieces in good condition tend to have incredible value. A 1961 Yankee bobble, for instance, was sold for almost $60,000 in 2014. 
Celebrity bobbleheads may not be as expensive. However, limited-edition releases are valuable. In the same year, a 16-inch John Lennon bobblehead got sold for $2,575. The bobblehead was released in 1964 together with bobbleheads resembling other members of the Beatles. 
Where To Get Affordable Bobbleheads For Your Collection?
Everyone fancies owning a collection that could turn heads. But for beginners, it's not that bad to start small and gradually enhance the lineup as you become more successful in life. Due to this, a reliable source of bobbleheads would help a lot.
CheapBobbleheads.com offers a wide array of collectible figures. We sell standard bodies, superhero-themed, and character miniatures for an affordable price. 
Our best-sellers are customized bobbleheads, a perfect option for a gift on special occasions, or as a souvenir. Here are some reasons why our customers asked for custom bobbleheads:
Gift for Father's Day

Gift for Mother's Day

Birthday present

Vanity present

Kids' anniversary gift for parent or grandparent couples

We also received bulk custom orders for wedding souvenirs
How To Place A Custom Bobblehead Order
Ordering a fully custom bobblehead is easy. See below steps on how you can get your customized bobblehead:
Browse through our collection and make the best decision.

Choose the type of bobblehead you want. 

Choose the size and head option.

Upload the photo for our bobblehead artist's reference

Pick eye color, hair color, and skin color.

Enter words to be printed on the base

Leave additional instructions in the notes section

If you want quick shipping, click expedited order.

Choose a quantity, then add to cart.

Checkout
Our custom bobbleheads showcase beautiful sculpture and excellent painting. On top of that, we can hone figures based on your requirements, like if you want the bobblehead to be holding something or striking a pose. Make sure to leave complete notes on your order to understand the details you want to add.
We are committed to giving top-notch customer service. Our staffs are available 24/7 to assist with your concerns. Contact us now for any questions.