Where do I Put My Bobbleheads?
While it may seem like a childish endeavor for some, the bobblehead market always brings in good business. The most valuable bobbleheads can range from hundreds to thousands of dollars. For the right people with enough knowledge, collecting bobbleheads is never a bad investment.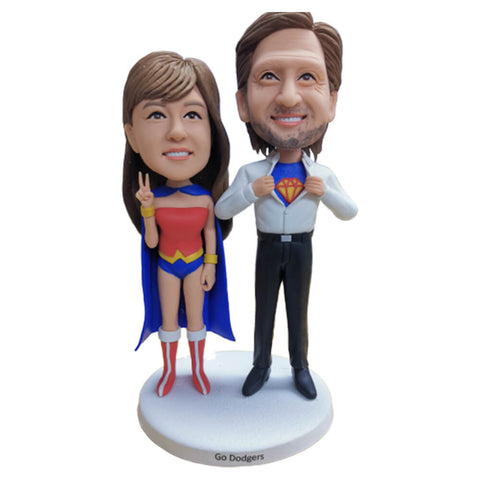 Bobbleheads have become a popular collectible item over the years for an array of reasons. Primarily, these bobblehead toys cover a wide variety of categories. There is a bobblehead for almost all sorts of interests, from athletes and movie stars to famous musicians and comic book superheroes. Baseball fans, in particular, tend to be attracted to these figures due to a large selection of bobbleheads from several teams available in the market.

Moreover, many of these figures are purposely created in limited numbers to contribute to its rarity. The most eager collectors would even scour the world for limited edition bobbleheads, and this is one reason for their stratospheric price tags. Surprisingly, despite the seemingly unreasonable cost, there is always an obsessed individual with money to burn, who will slay the auction to bring it home.

Browsing through eBay listings shows tens of thousands of results, many of which go for hundreds, if not thousands of dollars. Vintage bobbleheads can even be more expensive. In fact, in 2014, a 1961 Yankee bobble was sold for $57,750. And if you're wondering whose image it is after, no, it's just a miniature statue of a regular Yankee fanboy.

So if you bought something as expensive as a collectible figure, or a one-of-a-kind bobblehead that looks like you, it is just right to give it a decent room it deserves. Read on through this bobble head storage guide to learn more about storing your bobbleheads properly. 
Storing Your Bobbleheads
Although the concept of collecting bobbleheads may seem exceedingly simple, there are a few vital information to be aware of, one of which is figuring out where to put your bobbleheads collection. Collecting bobbleheads is an extremely addicting hobby. You may think of starting with a shelf full, but in a few years, it can get you to an entire room full of bobblehead sets.

One useful feature of bobbleheads is that they have a built-in stand with enough weight to keep them in place. All it needs is a flat surface where it can stand while away out of the reach of small children and clumsy pets. In most cases, the cheapest and most straightforward way to display your bobbleheads is by setting them on a desk, dresser, or a bookshelf.

However, this may not be viable for more expensive limited edition bobbleheads. The protection aspect is most important when dealing with valuable bobbleheads. While it may pose a big issue if you broke your five-dollar generic MLB bobblehead, it would be downright devastating if you broke one of your hundred-dollar commemorative set pieces.

While they may appear quite sturdy and resilient, they are fragile. This is especially true for bobbleheads made from ceramic. The neck and head areas, as well as outstretched limbs or accessories, are the most prone to breaking off. Most bobbleheads won't survive a fall of even a few feet. Moreover, they are most likely to fade and crack over time when exposed to the elements.

With these in mind, here are some tips and a few of the best ways to display your bobblehead collection.
Car Dashboard Bobblehead Display Tips
If you are one for displaying your bobbleheads proudly, you might consider placing a few pieces on your car dashboard. While a lot of people may initially think that these figures only exist to bobble while driving in your car, it is considerably challenging to keep a bobblehead set on a car dashboard firmly.

Hot glue, sticky tack, and double-sided tape are the most common materials used in keeping car dashboard figures in place. However, these items only offer marginal success that lasts for a week or two. Everyone avoids these as they usually tend to fail due to temperature changes in the vehicle. As such, you will need to res tick your bobbleheads every few weeks.
3M VHB Tape
To avoid these band-aid solutions, one pro-tip to consider is to use a 3M VHB tape. It is an extremely high bond foam tape, which is the same thing used for GoPro mounting. This solution should last you years before you will have to replace the tape. Here are four steps to follow for a firmer bobblehead display:

Step 1:

Use dish soap bar or liquid soap to clean the area you plan to place the bobblehead. Avoid using window cleaners as most solutions leave a residue.

Step 2:

Completely Wipe down the soap with a damp cloth and allow it to dry.

Step 3:

You want the attaching surface to be as uniform as possible. If there are recesses, start to build them up with the foam tape.

Step 4:

Press down the Bobblehead with sufficient force for at least 30 seconds.
Keeping Them In their Original Boxes
There is a certain feeling of self-respect while seeing your bobblehead figures organized in their original packaging. This feeling motivates collectors to choose to keep their bobbleheads in their original cardboard boxes complete with plastic or foam packaging. While it is not as nearly as fun as opening them, their natural cases offer a good deal of protection for no additional cost.

Another pro tip is to keep the original boxes handy even if you decide to display them without the packaging. It is always practical to hold on to the boxes for storage or moving purposes since you know that it will always be an exact fit.

In the end, whether you open your bobbleheads or keep them in their original packaging is entirely up to you. It all depends on whether it makes you happier to have them in their boxes or not. However, if you are looking at it as n investment, then removing your bobbleheads from their original packaging wouldn't be a good idea. Opening the original packaging and taking out the bobblehead figure diminishes its value. 
Custom Multi-item Racks or Cases
Displaying your bobblehead collection out of the box and in specially protected shelves or cases allows you to be more creative. Boxed bobblehead figures may seem bulky and will require you a good deal of space to store a large number of them. Moreover, your options for displaying them tend to be more limited.

It takes a massive deal of discipline not to open newly acquired bobblehead figures. But there is a sure joy that comes with holding and feeling your collection figure's entirety with your hands. And, with custom multi racks or cases, you won't have to worry about fading colors or cracks on your precious bobblehead anytime soon. Collectors recommend adding UV protection to your shelves and glass cases whenever it is possible.
Built-In Shelves
A more fancy-looking storage for a hardcore toy and figure collector would be a costly built-in shelf. If you traveled the world to get your precious pieces, or if you're a frequent auction winner, your fans and followers expect something extravagant and extraordinary from you.

Go all-in by giving your collection a stunning built-in rack with glass protectors. It's an exceptional way of highlighting rare pieces of 6-digit figures. Even if they don't cost that much, but you want to make them look like they are, calling some engineers to dig some holes in your room would be worth it after you've seen the final interior.

Don't forget to add immaculate lighting to further emphasize what's inside. Of course, your bobblehead figures should be outside their boxes, and their backdrop is well-thought-out. Toy collectors make use of mirrors for their background instead of a plain white wall. Others would choose wood or metallic accents. However, it's best to try what works well with the shelf lighting.
The Best Storage For Bobbleheads
While it's true that expensive bobbleheads deserve a lavish place to rest, someone who would rather buy more pieces than spend their money on engineering cost might end up with a more practical room for their valuable bobblehead collection.

There's nothing wrong if you won't give your bobbleheads a nice place to rest. For as long as you properly maintain their brilliance, and keep them away from harmful elements, your bobbleheads will continue to smile on you.