In 10 Minutes, I'll Show You the Truth about Custom Bobbleheads
Ever wondered about the need for customized bobbleheads?
Galileo Galilei once said, "All truths are easy to understand once they are discovered; the point is to discover them."
Customized Bobbleheads are no exception.
Bobbleheads have become an indelible part of our culture. These little pieces can be a lot of fun as they depict classics in our societies.
Besides incorporating efforts to make people memorable, personalized bobbleheads are the best way to express your feelings for someone. In addition, it's a unique way of surprising someone who has a special place in your heart.
Occasionally, customized bobbleheads can be disasters, one of the causes being little resemblance to the intended target or because they're  generally offensive.
Today, we're going to rip custom bobbleheads line by line, word by word, and examine the truth about them.
I'll also share their abilities in our social lives, the science behind their social power, and finally, the importance of acquiring one for someone you care about.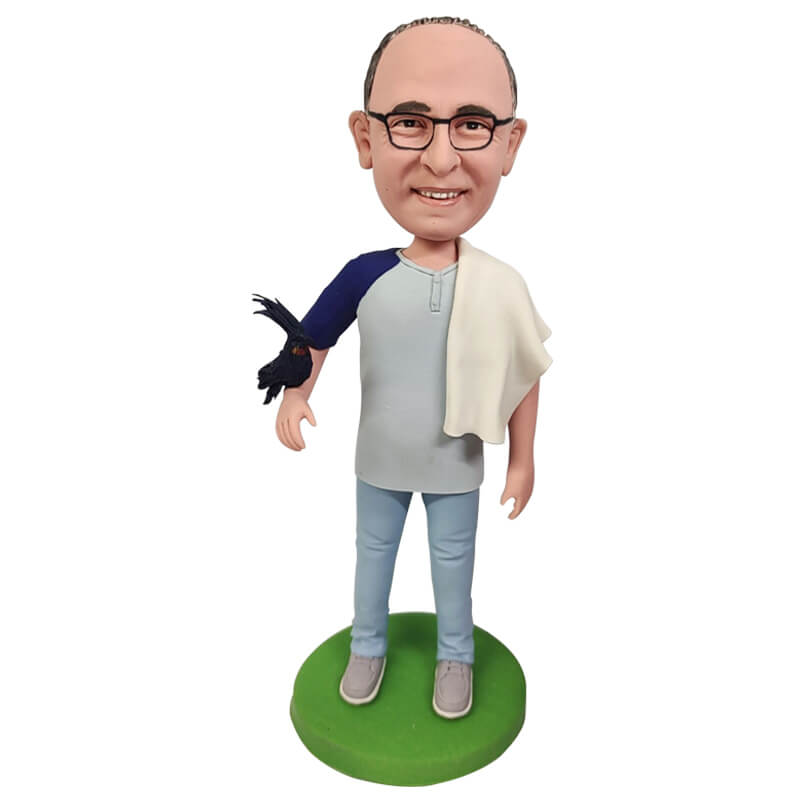 They show you have put thought into recipients
In his modern essays, Seneca Lucius says, "A gift consists not in what is done or given, but in the intention of the giver or doer." That's undoubtedly true with personalized bobbleheads. Such a gift personalized for your friend or family member will show that you have put thought into them and know them pretty well. If you're looking for a gift for someone you're not used to, a customized bobblehead is always the best.
Suitable for every people in most occasions
Let's face it; Don't you find it difficult at times to choose gifts for the opposite gender? It could be your mom, dad, siblings, or even friends. Doesn't it get more complicated? When you're not used to that person? Well, You have a savior from that possible embarrassment, a customized bobblehead. How? With bobbleheads, it doesn't matter whether someone is 60 years old or five years. The words engraved in them will always stick in them for long.
They convey gratitude messages
Events like weddings reflect togetherness. In most cases, they involve two people who affect more prominent families in turn. At times, we travel for long distances to witness such occasions.
Usually, there's a natural call to make the main parties feel special during the ceremony. Personalized bobbleheads play an unmatched role in this case.
Let's have an example: Two bobbleheads holding hands down the aisle are presented to the bride and groom. What's the probability that they will attach the bobbleheads to the sender? Of course, 100%. They will always recall someone who appreciated them.
Personalized bobbleheads increase loyalty
If there was a funny but actual fact about personalized bobbleheads, loyalty contends first. I mean, it's unbelievable! How we enhance personal emotions to gifts still puzzles me.
When you personalize bobbleheads according to someone's taste and preference, the recipient feels to be having your attention. They'll constantly be associating the bobblehead with you. Eventually, it increases loyalty and eventually triggers them to create a lasting relationship with you.
They are durable and versatile
They have constantly been prejudiced against their quality. Companies producing them are now getting their clients through and through, from using the latest technology to using durable materials such as clay in manufacturing them, which means that bobbleheads can only be imitated but not duplicated.
Under versatility, on the other hand, they're coming in different sizes and shapes now. This means you can store them in diverse places according to your space budget.
They create brands
One of the truths about creating personalized bobbleheads is that they develop brands. People want to make unforgettable images in their lives or their businesses. This is possible with something impressive. Bobbleheads have consistently been successful items for events; they have become the ideal spokesmen in institutions.
I mean, look at Arsenal football club's mascot Gunnersaurus. 
If you make personalized bobbleheads, you'll thrill your fans. In addition, if it's meaningful and funny, you're likely to generate more sales and create a powerful brand.
In sports, they show a sense of belonging, and they're regarded as a cool way of supporting some team players. They are also gaining popularity in the field events arena due to their ideal sizes, cost, and ease of displaying them.
If you know a diehard fan of any sport, I'd recommend you get a personalized bobblehead for him/her.
Preserve memories
As we live, we listen and learn, too. Consequently, this carves out memories that might be etched in our hearts forever. At times, making customized bobbles becomes the only way that we can connect to them.
Similarly, when a loved one is in grief, a bobblehead belonging to the departed can be gifted to keep their memories alive. Notably, a custom in respect of the deceased brings comfort during this time.
They help one stand out
 Some occasions in life are usually accompanied by lots of gifts to one recipient. We usually find ourselves stuck on how to make our offerings stand out. When it comes to people we are related to; we strive to be different and look unique. To achieve this, you need to be tactically savvy because slight differences build relationships. Customized bobbleheads come in handy on these occasions. You can design one that will quickly create memory, and you'll be good to go.
It can be used as payback
Isn't it great to find perfect gifts for someone you love? How about scrolling through the pages on the internet in pursuit of the best bobbleheads dealers? Well, don't you expect the same case during your special occasions?
Gifts are meant to cement relationships. However, we always desire reciprocation after gifting.
Renowned sociologist Dimitri once said
" Gift giving creates a debt balance." which we must concur with.
Making personalized bobbleheads saves you from these kinds of ill feelings and quels lots of anxiety. Bobbleheads will provide a good gesture that you value the relationship.
You can use them to reward a job well done
As humans, we keep doing meticulous work due to a particular motivation or appreciation.
Let's have an example; You've been working in a busy production plant for some time now. One day, your boss emerges with a customized bobblehead that portrays your work achievements or has words of encouragement.
How is this supposed to impact your work life? Of course, positively.
When bobbleheads with generic compliments are presented to individuals, they encourage them to strive more.
They save cash flows
You'll concur with me that COVID-19 has shut down several economies. It has hindered some institutions and brought a cash crunch to some.
"How can this strategy deliver our cash flow crisis"? It is a common question among managers in institutions.
 Customized bobbleheads are being used as giveaways in sales. Consequently, it's increasing sales as potential buyers may be bobblehead lovers. It psychologically distracts the buyer's focus beyond products desired to the add-ons.
Though an old strategy in some companies like McDonald's, They are being used to salvage cash flows in institutions now.
They are used to sensitizing people
Thanks to the scientists, At least we're informed in advance about Covid 19. Can you imagine if the world never knew about this tiny enemy in advance? Probably you could have lost count of the loved ones you lost, or even worse.
Yes! Bobbleheads are being used to sensitize people. How? Renowned frontline workers' words are being engraved into bobbleheads to pass safety messages to people.
Funny and meaningful add ons to these items have gained ground in delivering messages clearly and are being widely used.
In addition, leaders' bobbleheads complying with Covid 19 measures are being used to sensitize people too.
They are a source of employment for many
I bet you had overlooked this one. Try to imagine Bobbleheads employees who strive to make us happy every single day. The different designers, the transit guys who make us smile upon delivery, dedicate their lives in exchange for our happiness.
Alternatively, they could be sourcing their income from other niches, but they stick around to make you happy.
Bobbleheads companies employ them, and they earn a living through the sales of your favorite bobbleheads!
 Lastly, I don't think you would forgive me if I overlooked the grey sides of bobbleheads. While making customized bobbleheads blends with our gifting life, they have a couple of disadvantages too. Bobbleheads are made out of expensive poly resin and polymer clay. The latter has long-term health effects if not handled carefully. Some bobbleheads are also non-biodegradable, which is an environmental hazard!
Secondly, Plastics contained in bobbleheads too can clog water pipes. Besides, recycling them causes toxic gases that have adverse effects on humans, such as hormonal imbalance.
 Conclusion
Choosing gifts for persons we love at times could be challenging and may require a lot of effort. Customized bobbleheads are the most straightforward solution and will spare you all the time too. Besides, they leave lasting impressions on recipients too. Always try customized bobbleheads!