is My Custom Bobbleheads Legit?
Many people wonder is my custom bobbleheads legit? My Custom Bobbleheads refers to mycustombobbleheads.com. Myfacebobbleheads.com and myfacegifts.com are all from the same company. It's a Chinese company called Maiyuan located in Guangdong Province, China. mycustombobbleheads.com is legit, but has a terrible customer service.
My Custom Bobbleheads reviews
Fast facts of my custom bobbleheads
No Proof Provided
This company most likely won't send you proof before shipping.
Newbie bobblehead artists
They hire novice artists and train them, push them to work, so they can "produce" many bobbleheads every day, just like machines. They do make the bobbleheads and ship them, but with poor quality.
Poor customer service
They don't care about customer experience. And if you request a proof or refund, they won't answer your email.
No refund or remake
Once you request a refund, they won't refund you because the products are personalized and won't allow any refund.
This company most likely won't send you proof before shipping. And if you request a proof, they won't answer your email. They do make the bobbleheads and ship them, but with poor quality. Once you request a refund, they won't refund you because the products are personalized and won't allow any refund.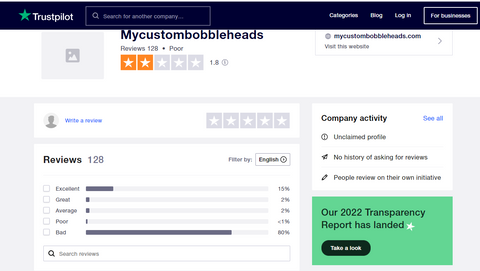 Here are some reviews from their customers:
Total SCAM - never received product after getting proofs that were horrible. Tons of emails and nothing - just them dragging it out and refusing to do anything
Do not order from here if you are a person of color. I am south Asian and the bobble head I was given was white. When proofing I specifically asked if the clay would darken to a match a south Asian color and was told it would and in the end I got a white bobble head. I get that they can't match color exactly, but when the head is white, then it's useless. I would have been happier with a darker color than a lighter one. A waste of money.
Horrible company. Dishonest. No return policy. My bobble head was damaged and looked nothing like the picture at all. The sticker was half torn off. They did nothing to help. Can't even communicate with them as they speak limited English and only provide an email. Don't waste your money at this company. I wasted $150 and ended up throwing it in the garbage.
Where to buy a customized bobblehead with the best customer service?
Cheap Bobbleheads makes the best custom bobbleheads and the best customer service, we have the best bobblehead craftmanship. Most importantly, we have the best customer service and return policy. Make your own bobbleheads now!
How do custom bobbleheads work?
Custom bobbleheads are currently quite possibly the exceedingly prevalent choice related to them, they are perpetually collectible bobbleheads. These customized bobbleheads will cost around $69 or more since they are a hundred percent hand-made by Chinese bobblehead craftsmen. Empowering folks to customize their bobbleheads to their affinity before long made this sort of bobblehead increasingly more famous amongst bobble head collectors.
Varying Bobbleheads
Customized bobblehead has been varying in the last 3 years. Toward the start, a bobble head doll that seemed as though a human was tweaked for individuals just as a gift. In any case, presently, more renditions of bobblehead figurines are made, for example, personalized mini bobbleheads, and custom anime bobbleheads with keychains.
Top Custom Bobbleheads In 2021-22
In 2021-22, folks are searching for the top custom bobbleheads, for the people who need to make a bobble head of themselves, cheapbobbleheads is the leading custom bobbleheads manufacturer in the business, they will fabricate very charming bobbleheads that seem as though you.
Custom Bobble Head A Splendid Gift Notion
Custom bobblehead is a splendid present notion for those special dates such as anniversary, birthday, Valentine's Day, Boss's Day, New Year, Christmas, retirement, friend's wedding, and so on. These top-notch handmade bobblehead dolls with astonishing resemblance give contentment to folks who get it, groom, bride, groomsmen and bridesmaid at wedding, dentist, nurse, and your medics, players, sports fans and coach, colleague and supervisor in the company, members in the family, everybody fancy to get a doll seems as though him/her. Crafting a bobblehead for your canine/feline or yourself is likewise a cool notion.
Is Bobblehead A Hallmark?
Any unapproved endeavor to alter any sort of online material, to overcome security highlights, or to use bobble heads for any reason other than its expected intentions is absolutely forbidden. The firm's logos and product & service names are brand names of the firm.
Will Custom Bobblehead Figurines Instigate Copyright Infringement?
There are two significant expected concerns: right of publicity & copyright.
Copyright legislation can be an issue since, in such a case that the client doesn't possess (or have a permit too) the copyright in the photo they upload to be transformed into a bobblehead, the bobble head might be an infringing derivational work of the photo.
This might be impacted by how intently your bobbleheads would look like the specific photo, instead of the individual portrayed more commonly, as obviously individuals themselves are not copyrighted.
Comparative issues exist with regard to the right of publicity on the condition that a client utilizes the photo of somebody whose resemblance, they don't have consent to utilize. While the right of publicity is overall restricted to commercial utilization of an individual's name or similarity, the way that clients will just involve them for individual use doesn't actually help on the grounds that the client could conclude they need to vend the bobble head after they have bought it (and, obviously, you have offered it to them in any case).
Is The Bobblehead Doll Model In Itself Licensed?
If one somehow managed to make me, might they at any point be sued for the body style as well as bobble framework? Try not to stress over copyright in the bobble head 'model' copyright safeguards illustration, as opposed to notions. Bobble heads were in the vicinity 40 years back, therefore in case it was protected eventually, the patent ran out quite sometime in the past. That implies you can at will create bobblehead figurines.
The bigger query is on the condition that you can make a bobble head of a particular individual. You can build a bobblehead of your preferred baseball player, for instance, provided that you authorize that player's picture from the player, on the grounds that the player had publicity rights.
You could possibly change somebody's picture into a new thing, however, in the event that you don't get a permit to do as such, you ought to have a certified intellectual property attorney review it cautiously.
How to avoid companies like My Custom Bobbleheads?
One expected method for safeguarding yourself is to involve the clients of your site to concur, prior to the order/upload, that they adequate consent for you to utilize both the photo and the similarity of the individual in the photo, that you are depending on this portrayal, and they consent to reimburse you or potentially hold you innocuous in the event that either of you were to be sued because of your creation of the bobble head.
This is simply a broad exhortation, and may not be fitting to the particular execution of your business idea. For instance, the more individuals associated with the orders during the production cycle (and consequently the more open doors that exist to recognize the possible right of exposure or different issues), the more certifiable advances you might have to take to get rid of inappropriate orders to limit your expected responsibility. You ought to talk about the points of interest with an intellectual property lawyer, who can offer you more comprehensive information with more data on how the business will work. Our tips: Do your homework and avoid bobblehead scams.