Custom Bobbleheads- a Great Marketing Tool
Are you are seeking ways to provide a positive customer experience and at the same time boost your sales? Then you should be looking at custom bobbleheads. Custom bobbleheads are great tools you can use to promote your business and give customers a lasting impression. A promotional flyer of a business can only last a few minutes in the hand of a customer or prospective customer before landing in the trash, but most people would place a custom doll at strategic places where they can constantly look at them. When thousands of customers and potential customers are constantly being reminded of your business by looking at a custom-made bobblehead from your company. Your business automatically becomes their first choice, thereby yielding a great return on investment. Let's look at what makes a custom bobblehead an exceptional marketing tool.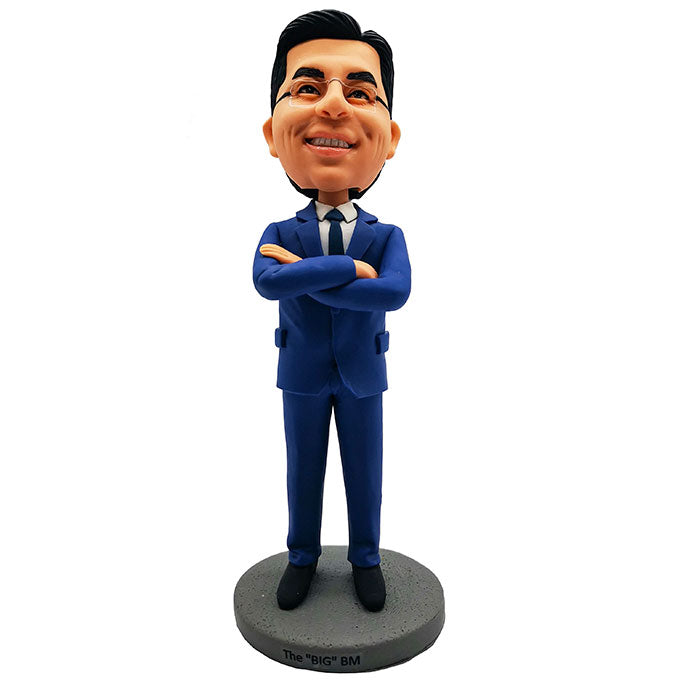 They are Very Affordable
One reason custom bobbleheads are great for advertising or marketing is their affordability. Producers of custom fun dolls have made it very easy for businesses to design custom bobbleheads at cheaper rates. You do not need to break a bank to produce custom bobbleheads for your customers. Even as a new business, you can make a bulk order of bobbleheads for your customers and your prospective customers without your capital being affected.
Easy To Design Or Customize
Secondly, advertising with a custom bobblehead allows you to introduce great designs that depict the product or service you are marketing; you can also write captivating messages that will attract potential customers. To make it more personal, you can ask high-network or regular customers for their photos and immortalize them with bobbleheads. This will create a connection between them and your brand. A properly customized fun doll will attract potential customers and help you generate sales without any additional costs.
Leaves A Lasting Impression
Most customers keep promotional items received from businesses for a very short period. In marketing, it's very important to sustain the impact of your strategy. When an advertisement is done properly, it can leave a lasting impression and also build your brand. A custom bobblehead always outlives the initial campaign. It will make your business attractive to any consumer that sees it.
Unlike other marketing tools, people connect quickly with bobbleheads. A customer can easily start smiling at the sight of a custom bobble doll. People can't easily throw them in their drawers or hide them in their pockets like a pen or keyholder. Anyone who receives a custom bobblehead will create a space in his/her home or office where it can be displayed for everyone to see. Therefore, giving out a bobblehead to a customer will promote your business wherever the customer chooses to place the doll, be it in the home or office.
A Perfect Branding Tool
Bobblehead branding goes beyond writing your business name on a doll. It is a way of sending a message to show your brand's credibility and what it represents. It also has to do with how you convey your message and how customer's emotions connect with the service or products advertised.
Effective Promotional Tool
An effective promotional tool ties customer feeling to a service or product and leaves a long time effect. This is the kind of result to expect when you advertise with custom bobbleheads. These fun dolls are very effective as they bring your customer into a lasting experience with your business. Most customers will not fail to smile when they see a bobblehead nodding at them. A well-customized bobblehead can deliver a concrete message about your business to customers or potential customers without you saying anything to them.
Can Serve As Cross-Promotional Items
Custom bobbleheads are often using in the world of entertainment and sport for promotion. You can partner with a non-competing business and jointly produce bobbleheads for the promotion of both businesses. This joint advertisement can feature bobbleheads of celebrities using your product or service. It will also expose your brand to the users of other established brands, thereby increasing your brand's reputation and equity.
Cross-promotional bobbleheads can also reduce the cost of producing bobbleheads since it is shared between the businesses involved.
They are Highly durable
A custom bobblehead is a long-lasting and durable marketing tool for any business. They are produced with durable materials that make them last for a long period. Most customers tend to forget about a product when there is nothing to remind them of the product or service. But as long as these fun dolls keep standing in your customer's homes or offices, they are reminded of your services and products.
Works For All Kinds Of Businesses
There are gift items that are not suitable for promoting some specific business. But a custom bobblehead is very versatile and can be used to promote any business and service, be it sports, restaurants, clothing, hotels, etc. All you need to do is get a manufacturer to customize the bobblehead design to suit your business and the message you intend to pass across.
Wrap up
Custom bobbleheads are not only great gifts for festive seasons and anniversaries; they can also serve as an effective marketing or promotional tool. Some of them are very portable and can be placed at strategic places in your client's homes and offices to keep them smiling by simply looking at them. They are lightweight and can be viewed many times without tiring. When you give out custom bobbleheads, you can be sure you won't find them in hidden places, drawers, or the trash can. These are the qualities that make these gift items stand out as a strategic marketing tool. Therefore, investing in this fun doll can yield a long-term profit for your business at a one-off cost.
Ordering a bulk bobblehead for promoting your business should not be done in a hurry. It is important you choose a good manufacturer to ensure quality. The outcome you will get from this experience depends largely on the quality of your custom bobblehead. To find out how easy it is to create and order for a custom bobblehead
click here
.