2022 Valentine's Day Custom Bobbleheads Guide
Valentine's Day is around the corner. Whether you are single or in a relationship, nothing matters on this day because it's all about your significant other! It can be hard to find that perfect gift for them since there are so many options out there already.
What's special for Valentine's Day gifts?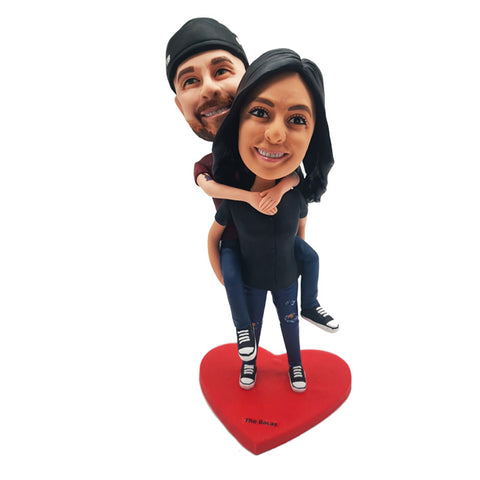 If finding that special someone wasn't hard enough, trying to figure out what you're going to buy for them can feel like an insurmountable task. After all, they should know by now if they have your heart. But don't fret... There is one thing you should definitely consider buying them: custom bobbleheads of themselves!
What if you don't know how to choose a bobblehead?
Customized Bobbleheads make the best gifts, especially ones of yourself! For those not familiar with our company, we make 100% customizable bobbleheads. This means that you get to choose everything from the head shape, facial expression, hairstyle, hair color, and even jersey numbers for sports figures!
The best part about getting a custom Bobblehead of yourself is the sentimental value it carries. You can give your special someone something that reminds them how much you love them every day! And let's be honest... who doesn't want a miniature version of themselves?
What are custom bobbleheads?
Custom Bobbleheads are also known as personalized bobbleheads or designed bobbleheads. They are inexpensive gifts with unlimited options for creating anything imaginable. If money is no object, then you can opt for Platinum or Diamond editions which require only 4-6 weeks of production time. With all that being said, there are still a few things you should know about getting your own custom bobbleheads...
What to keep in mind when order a bobblehead?
If you want an exact replica of yourself as a bobblehead, make sure to take good care of yourself throughout the year by staying fit and healthy! Also, try to wear neutral colors when taking pictures since it will help to avoid clothes not showing up well in pictures. You don't want a bad picture associated with your perfect gift!
If that seems like too much for you, then simply send us photos from your favorite angles. We can work with those types of photos easily. However, if worst comes to worst, we have a live preview feature that allows you to see what your final product will look like BEFORE it is created.
You should also keep in mind that you need a clear, high-resolution picture for us to work with. If your picture isn't clear, we won't be able to make a perfect replica of yourself as a bobblehead, and it will have to be remade, costing additional charges. Also, be sure to use the lighting on your camera, so there aren't any awkward shadows or glares in the way when taking pictures!
Keep in mind that most cameras have an automatic setting that does this automatically, so you shouldn't have trouble with this step if you're using an actual digital camera instead of just uploading your photos from elsewhere online.
Additionally, there are some other things families should consider when getting their own custom Bobbleheads. If you want something that can be passed down for generations, then there are other materials available besides resin. You can choose porcelain if you're looking for a more classic look or "Unbreakable Resin," which is similar to your standard resin but much more durable! However, it's important to note that different materials will require different types of pictures since they each reflect light differently...
Some basic guidelines for getting any material
Make sure to use the lighting on your camera, so there aren't any awkward shadows or glares in the way when taking pictures! -Do NOT take pictures directly into the sun because this could result in strange colors and shadows appearing in your photos. -Only send us high-quality, high resolution photos without any awkward shadows or glares. -Use the "Portrait" setting on your camera, so all pictures are taken at a 90-degree angle rather than up/down, side to side, etc. This will ensure that there aren't any strange distortions in the final product!
If you want to get specific with colors, then an easy way to do this is by taking pictures on different colored backgrounds until you find one that has the right color scheme for your custom bobblehead! Although this may seem tedious, it ensures that every element of your bobblehead will look good together once completed.
Final thoughts
One final thing... If you want some type of accessory with your custom bobbleheads like glasses or hats, make sure they match each other and your outfit, so it doesn't look strange! For example, if you're wearing glasses in the picture, then make sure they are sturdy enough to hold up during production.
Custom Bobbleheads are an amazing gift that has unlimited potential for anything you could ever imagine!